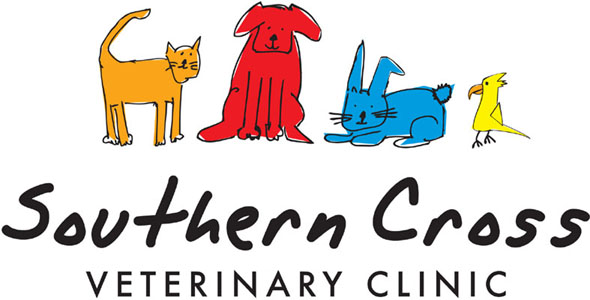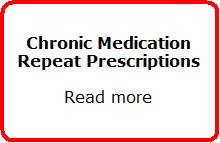 Southern Cross Veterinary Clinic has a spacious, sunny and comfortable waiting room. The main entrance from the car park is wheelchair friendly.

Our clients and their pets can wait in the garden. The garden is also used for puppy socialisation classes and parties.

Our reception staff at the separate clinical counter deal with admissions, consultations, accounts and medical dispensing.
We stock a wide range of excellent veterinary diets and pet products. A retail counter with fully trained staff deal with sales and advice regarding the different diets and products. Our staff have been trained to assist you wherever possible - whether selecting the correct diet or just hearing about your pet's latest bout of mischief.
The three spacious consulting rooms are private, fully air-conditioned and open into the waiting room, and at the rear into the clinic and hospital area. Large, non-slip examination tables give our patients the required sense of security which helps with examinations and treatments. A basic wet lab exists.

Southern Cross Veterinary Clinic has a large, fully air-conditioned dog hospital. The cages are spacious with excellent ventilation and drainage. The hospital encompasses a fenced off exercise yard where dogs, if they are able to, will spend time outside during the day. A bench in this lawned area adds comfort for visiting owners. We have a separate, air-conditioned cat hospital. The cats do not come into contact with dogs which offers security and limits stress. There are extra large cages for moms and their kittens. This warm, quiet environment is ideal for our feline patients.
All the cages are tiled with non-slip floor and smooth wall tiles which allow for easy cleaning and a hygienic environment. Each cage has its own drainage point covered with a stainless steel grid. The galvanised cage doors give security and safety. The floors in all the hospitals and theatre are tiled and boast under floor drainage systems, further enhancing a hygienic, clean environment.

Our isolation ward is separate from the main complex and allows us to treat infectious diseases without any danger of contaminating the dog or cat hospitals. This air-conditioned, well drained ward ensures high care while maintaining the same standards prevalent throughout the clinic.
The preparation room, intensive care and theatre are also fully air-conditioned and patients in ICU are under constant observation. Online video streaming means that we can monitor our patients via the internet at night from our homes. We are well equipped to cope with emergencies and the treatment of hospitalised patients. A wide range of surgical procedures is offered. First class digital X-ray facilities and an ultrasonic scanner help with specialised diagnostics.

We recognise the importance of small animal dentistry and the need for relevant facilities so we have a separate dental unit next to the theatre.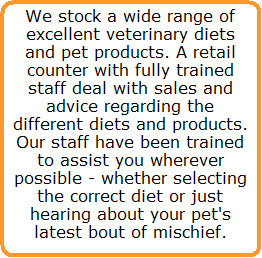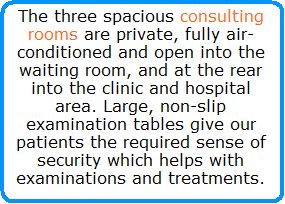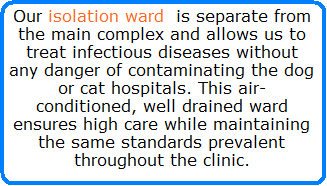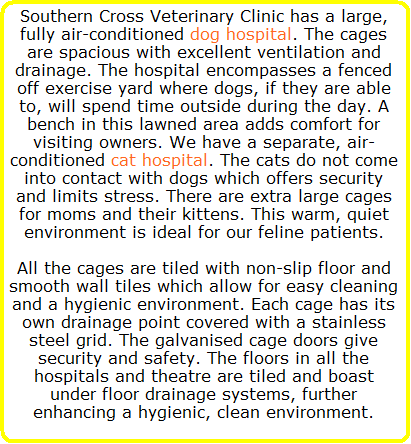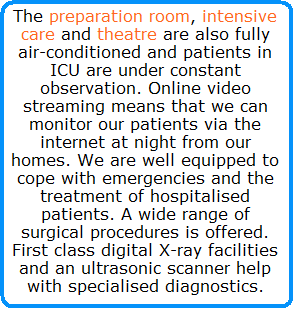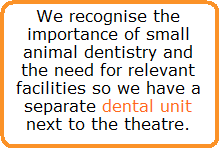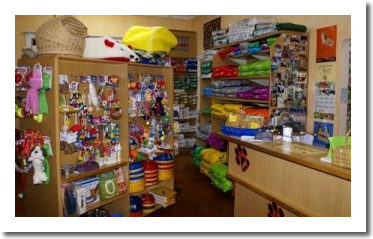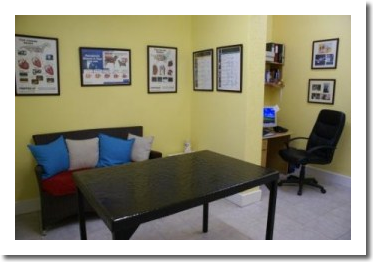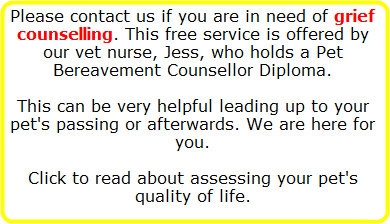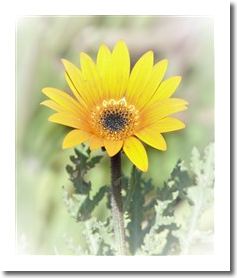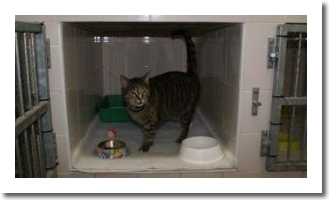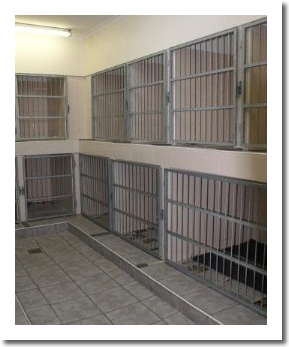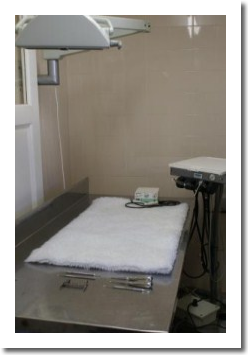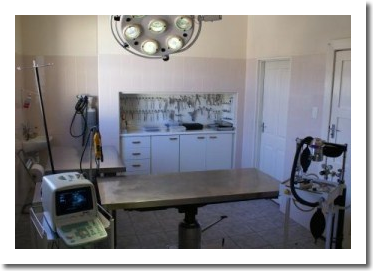 We have a wide range of equipment available for physical rehabilitation which includes:
Therapeutic ultrasound and neuromuscular electrical stimulation machine
Land treadmill
Full range of therapeutic exercise equipment including FitPAWS® rocker board, wobble boards, balance discs, gym balls, donuts and peanuts, weights, resistance bands, cavaletti rails, and cones for weaving exercises
Equipment for disabled and injured pets including harnesses, slings and, if necessary, we can source carts and other assistive devices for your pet
A range of high-quality sterile disposable acupuncture needles